---
Welcome! Looking for something special? We use tags on all of our products. Click the magnifying glass in the top left corner and jump down the search bar rabbit hole!
Try typing something like "Mars" or "war with aliens" or even something super specific like "artificial intelligence" to see books with these themes or settings! Good luck!
---
Can't find a book? Buy a new book while supporting our bookstore!
---
Featured collection: Hugo Award Winners (here's a few of our favorites we have for sale!)
---
Our Dream
Our dream for PftS is to grow this company to a point where we can open up a physical store and host virtual & in-person book clubs, special events, author book tour meet and greets, and even host guest lecturers with experts from around the world. Each purchase gets us closer to that dream! Right now, we do Author Interviews on YouTube and pull off pop-up events throughout the year in Dayton, Ohio!
---
About Us
We are quite possibly the world's greatest science fiction bookstore! That's our goal at least! Postmarked from the Stars started off as an Instagram fan page (ScienceFictionDaily). It was dedicated to sharing science fiction related content around books, movies, and television shows. In 2020, we decided to open a shop and create a hub for hosting conversations and selling from our collection instead of just showing it off on social media!
We search for sci-fi books on a daily basis and acquire 100s of books a month. Bookstores are our happy place!

Collecting has brought us enormous joy over the years and now we'd like to share what we find with you! We've read 100s of sci-fi books and intend to bring you hidden gems, classics, and new releases actually worth your time! We're so happy to say we've shipped to over 14 countries and have sent 3,000+ orders around the world!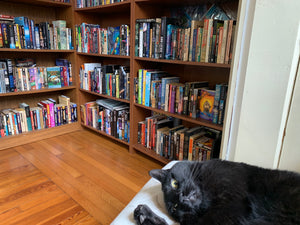 Remembering Bandit - Our Chief Meowing Officer
Consistently our Employee of the Month. His favorite book? Obviously was Mikhail Bulgakov's The Master & Margarita. He's was admittedly biased, he was a distant relative of Behemoth.
---
Featured collection: Antique/Vintage Picks
---
Contact Us:
If you'd like to contact us please email us at postmarkedfromthestars@gmail.com, 937-853-8699, or on Facebook, Instagram, What Not, or Twitter!
If you want us to look for a book for you, please fill out this form!