---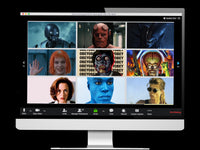 Do you read a lot of sci-fi books? Are you sick of finishing great science fiction and having no one to talk with about it?  Welcome to the chance to join our first Postmarked from the Stars Reading Cohort!
This new age, tech-driven, private reading community will be led by a professional facilitator who has read hundreds of sci-fi books and custom built this year-long experience for lovers of the genre.
By purchasing this membership, you'll be included in monthly Zoom discussions based on the 2021 Book Calendar, gain access to a private discord for side discussions, and be able to participate in 3 private classic sci-fi movie watch parties. (Cohort will vote on and select the films.) 
In an age of increasing dissatisfaction and chaos, this group will aim to bring light, levity, and introspection around a common topic... science fiction. Please feel free to reach out with any questions about your prospective membership!